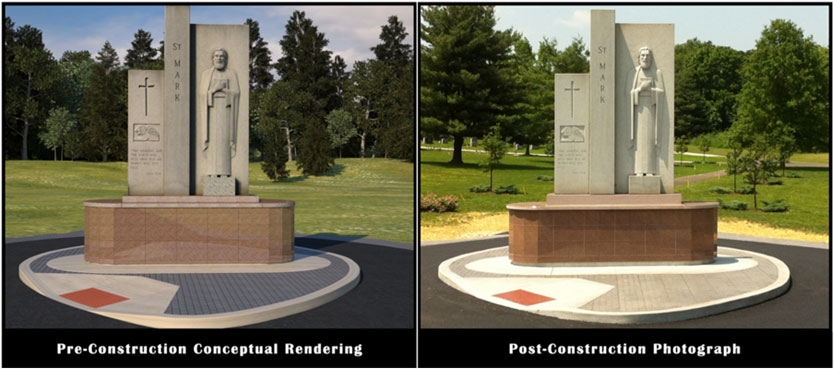 Archdiocese of Philadelphia Catholic Cemeteries Resurrection Cemetery
Bensalem, PA
Section 14 Site Development
This project included the design and development of an eight acre tract of land for 3500 new burial lots in an existing section of the cemetery. It also included the design and construction of a shrine/columbarium feature and incorporated a central service road through the newly developed section.
This partially developed section originally contained a tributary that was later diverted; the section was then placed under fill for about 20 years and geotechnical investigations followed before final development. This project prepared the site for final development to utilize it for additional burials, two shrine features and for an eventual cremation garden space.
CF Gorski designed the site development plan which consisted of grading, drainage and roadway plans for the site as well as Erosion and Sediment control plans. From earlier geotechnical reports to determine soil stability and wetness issues, CF Gorski developed a subsurface drainage and grading plan to correct the wetness problems. CF also coordinated with the Bucks County Conservation District for NPDES permits for the site and provided the bid documents for the project; as well as coordinated with the grading and roadway contractor during construction.
The 10-foot wide, 1000-foot long central service road was designed for funeral and service vehicles and included two roundabout features with space for two shrines. An existing eleven ton granite shrine, Ss. Matthew and Mark, was relocated to one of the roundabouts. The new shrine feature was evaluated and redesigned to include an oval columbarium unit around the base of the existing shrine that houses companion niches for 204 inurnments and was planned so as to generate a premium revenue price for this attractive central location of the section.
CF Gorski designed the shrine foundation and addressed known soil stability issues in the extensive foundation design; we worked closely with the client and with Eickhof Columbaria, Inc. to incorporate a new columbarium unit within the existing shrine feature so as to create a seamless design. The shrine feature design included curbing, walks and ADA accessible paths with stamped concrete features in the walks and roadway to enhance the visual appearance of the shrine with its surroundings. Various options were presented to the client with visualization models (renderings) so as to narrow down and ultimately select the best option that would incorporate all criteria set forth by the client into the shrine.
Burial lot layout and design work included working closely with the client to create a plan that blended existing single-grave flat-marker lots with proposed two- three- and four grave lot and upright monument combinations to meet the demand of the local demographic of this cemetery. The layout plan also included clustered planter beds with trees and shrubs that mimicked a more contemporary "garden" layout, but incorporated a "lessons learned" approach by limiting the footprint of these clusters and provided for indigenous plants - so digging and mowing equipment can easily navigate the section and would provide for less garden maintenance. CF Gorski surveyed and laid out over 3500 graves and set rebar pins at all lot corners in this section. Final range plans were prepared and submitted to the cemetery for their sales and burial crews use.
CF Gorski has also developed conceptual plans for a one-third acre cremation garden at the northern end of this section which will incorporate approximately 600 in-ground cremation lots and future columbaria walls with walking paths to enhance the section.
Grading of new access pathway and drainage installation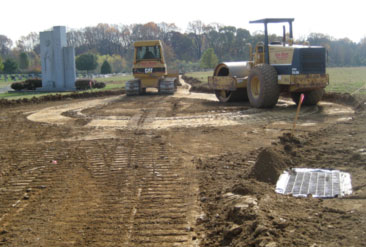 Placement of pavement for access pathway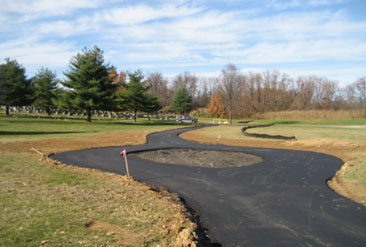 Custom fabricated steel access gates and accessible pathway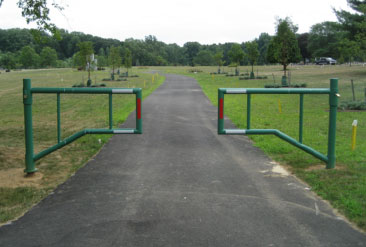 Oval planting bed shrub installation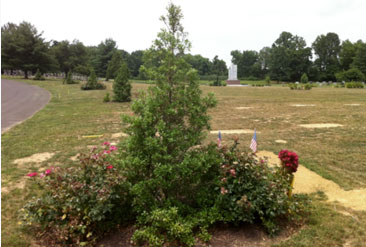 Relocated shrine on foundation with ledge for columbarium unit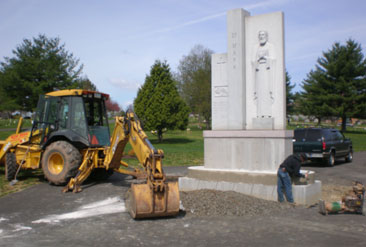 Stamped concrete pavement and curbing installation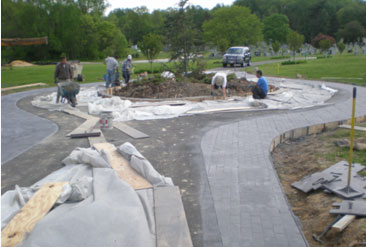 Completed project

610-642-6623

|

info@cfgorski.com